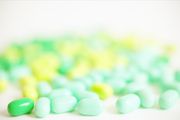 The girls are sick. Grace has stayed home from school all week with a cough and a sore throat. She went to school yesterday, but after she came home she seemed to feel worse than ever. Last night she was up for hours coughing.
A sick child at four in the morning is a funny thing. And by funny, I mean hard. You feel sorry for them, you want to help them, but you also want to sleep. If Grace is awake, she wants everyone to be awake. And by everyone, I mean me. I don't know how many times this scenario went on last night:
[cough, cough] "MOM!"
"Yeah?"
[cough, cough] "MAH-OM!"
"YEAH?"
[cough, cough] "I don't feel well."
"I know honey. Try to get some sleep."
[cough, cough] "Whh-at?"
"Try to get some sleep."
[cough, cough] "Whh-AAT?"
I finally found some cold medicine with a cough suppressant. I could hear Grace's cough slowly fade and around 5:30 she fell asleep.
Lillie woke up feeling "worse than I've ever felt in my whole life." She has a sore throat and has taken to using a whistle to get my attention. Even when I'm in the room. It's starting to get a little old, but the game of it is keeping her a little happy. So, that's good.
We're supposed to go on a trip tomorrow. Not sure if that's happening or not.